Huxco Offers Bathroom Remodeling Services
If you are not satisfied with how your bathroom looks or if you want to better utilize the space in it, bathroom remodeling is a good option. Bathroom remodeling does not always necessitate adding extra space. Sometimes, it is just upgrading the fixtures, lighting, or flooring. You can even choose a style or a theme more fitting to your personality or needs. While bathroom renovations can involve a sizable investment and may take some time to complete, the benefits of a remodeled bathroom are many.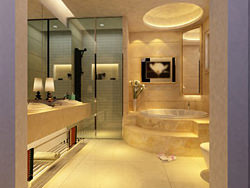 Huxco Constructions offers bathroom remodeling services for both commercial and residential clients located throughout the St. Louis metropolitan area. We have experience working on bathroom renovation projects for many different clients, and we can offer the expertise you need to help you make important decisions throughout your bathroom remodel. To learn more about our bathroom remodeling services or for a consultation and to receive an estimate for your project, contact our remodeling contractors online or by phone at 636-931-2243 or 866-931-2243.
Benefits of Bathroom Remodeling
There are many benefits to completing a bathroom remodeling project. For example:
Bathroom remodeling will increase your home's value: One of the biggest benefits you accrue from remodeling is an improvement in your home's value. However, if the project is not done properly or if it is left incomplete, the value of your home will actually decrease. Therefore, it is very important to get the bathroom remodeling done by an experienced home contractor.
The appearance of the bathroom will improve: If you are living with an old or outdated bathroom, you are likely unsatisfied with the appearance of your bathroom. A complete bathroom remodeling can bring the bathroom up to date and make it look much more appealing and inviting.
Better usage of space: Many houses have small bathrooms and with poor planning and design. Therefore, the bathroom can look very crowded and functionally can suffer. Bathroom remodeling can help to free up space and allow you to utilize the existing space better.
Create Your Own Personal Space with Bathroom Remodeling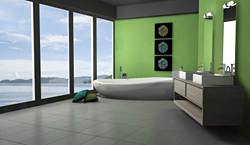 The primary advantage of bathroom remodeling is that it allows you to create a wonderful personal space for yourself. Therefore, after a busy day, you can come home and take a relaxing hot bath or shower as the worries from the day melt away. By remodeling the bathroom as you wish, you can turn it into a personal retreat that you can enter whenever you want to escape from everyday life.
In addition, many people avoid inviting friends and acquaintances to their homes because they are embarrassed with how their bathroom looks. Once your bathroom remodeling project is completed, you can start inviting people to your home to entertain them as you will no long feel embarrassment holding you back.
Want to learn more about planning your bathroom remodeling project? Here are more resources for planning your bathroom remodeling project:
Learn More About Our Bathroom Remodeling Services
Huxco Constructions is the go-to construction company for all your bathroom remodeling needs. Whether you simply need a tub, shower, or sink installation or you want a total overhaul and renovation of the space, you can depend on us to get the job done. To learn more about our bathroom remodeling services, contact us today at 636-931-2243 or 866-931-2243.
Free Estimate
Contact us online to submit details of your project and request a free estimate today!
Special Offer
Don't forget to mention your visit to our website!
Discount available*.
$350 OFF Roof Replacement Tear Off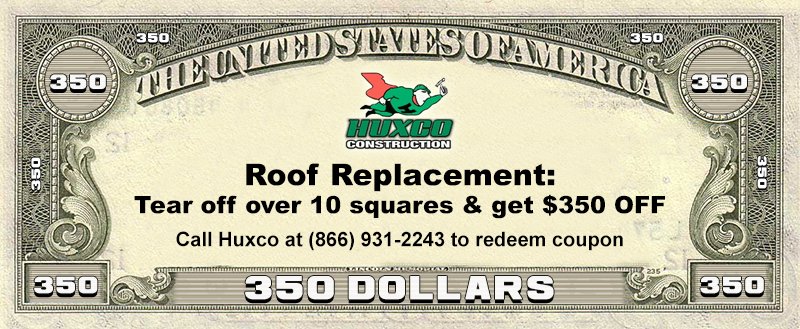 Limited to one discount per household. Cannot be combined with any other offer.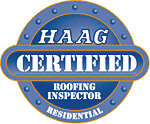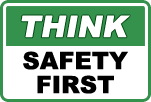 WE ACCEPT