Drywall Repair & Construction Services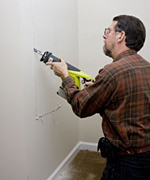 Drywall is a relatively common material used in the construction of most modern homes and buildings. It is easy and cheap to install and even repair. Dry wall repair is typically simple, as smaller holes in the drywall can be repaired using a joint compound. While many people choose to patch and repair their walls on their own when the damage is minimal, in some cases, drywall damage can be extensive, requiring professional aid. Moreover, an amateur with no knowledge about home repair may worsen the damage to drywall through shoddy or clumsy workmanship.
If you are looking for a professional organization with the experience and ability to offer superior home construction and repair services, look no further than Huxco Construction, the number one construction company serving the St. Louis Metro area and all of Missouri. We will cater to all of your construction and drywall repair needs ensuring quality work and superior results.
Drywall Repair: Why Should you Hire a Professional?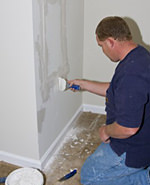 Drywall is typically damaged due to water seepages or flooding. Contact with water can severely ruin drywalls structural integrity, causing it to give in to even minimal impact. Moreover, because of the way that drywall is constructed from porous materials, it creates an opportunity for mold to grow which can endanger the residents of the home. For these reasons, it makes sense to hire a professional to handle any drywall repair projects.
Some things to look for when choosing a drywall repair expert are listed below.
A good drywall repair contractor will firstly try to determine the cause or source of the damage. The contractor will look for places where the paint is chipping away or 'bubbling'. Usually, darker patches of wall indicate a leakage, in which case, the contractor will follow these stains back to their source.
A drywall repair expert will also have an in depth knowledge regarding the installation procedures required for drywall. Although it is commonly used and cheap, drywall installation can be a difficult task if one does not have a strong foundation and understanding of home construction. Drywall sheets must be cut and shaped to specific dimensions, and then they need to be secured to the studs of the walls.
A drywall repair professional will also offer professional and high quality results when taping and mudding over the seams between drywall sheets. This should make the seams almost impossible to detect.
Finally, the last step in drywall repair is to ensure that the drywall surface is smooth and flat. This is accomplished by carefully sanding the wall. This will ensure that the surface will look smooth after a paint job.
Contact Us for all of Your Drywall Repair Needs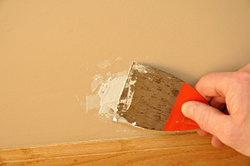 Huxco Construction is one of the top home construction and remodeling companies in the St. Louis Metro area. We boast an impeccable business record and promise superior results. With our professional expertise and experience, we can handle any remodeling, construction, and drywall repair projects quickly and professionally.
To learn more about our services or to request a free estimate, call us today at 636-931-2243 or 866-931-2243.
Free Estimate
Contact us online to submit details of your project and request a free estimate today!
Special Offer
Don't forget to mention your visit to our website!
Discount available*.
$350 OFF Roof Replacement Tear Off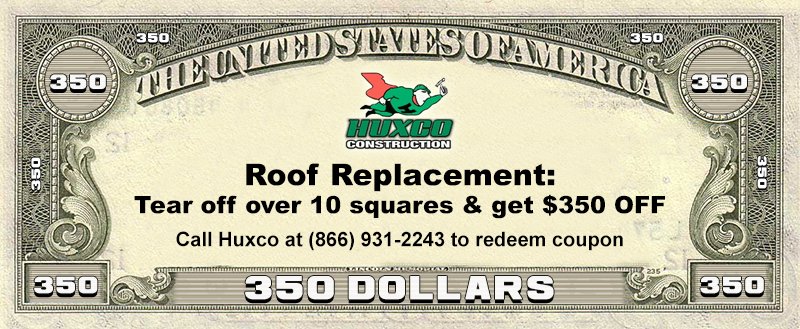 Limited to one discount per household. Cannot be combined with any other offer.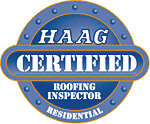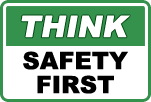 WE ACCEPT