How to Get the Bathroom of Your Dreams with Your Bathroom Remodel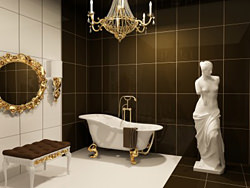 At Huxco Construction, we undertake bathroom remodeling projects with a special emphasis on your needs in order to help you get the bathroom of your dreams. When planning a bathroom remodel, it is best to have a clear idea about what you want the final outcome to look like. Having a clear vision is the first step towards attaining your dream bathroom. Therefore, you should take the time to go through catalogues, look at bathroom designs, and consult your contractor in order to completely consider your wants and options.
If you would like to learn more about preparing for a bathroom remodel, give us a call at 636-931-2243 or toll free at 866-931-2243.
Envision Your Bathroom Remodel Before Construction Begins
Some of the most important things that you should have a vision of before you begin your bathroom remodel project are:
Color Palettes – You should decide what sort of overall color scheme you want your bathroom to have. Light and neutral colors are always best for small spaces like bathrooms as light colors make the space look bigger and bring in more light, while neutrals are great for any color scheme and look beautiful. Color plays a big role in a bathroom remodel and choosing a color palette that livens up the bathroom can add to the value of your house.
Fixtures – After you decide the overall theme that you want for your bathroom remodel, the next step is to look at all of the fixtures that are available. These include faucets, drawer knobs, door handles, hinges, and even light fixtures. It is best to look for fixtures that match well with your theme but will also last long and require little maintenance or repair. 
Essentials – When designing their dream bathrooms, many people forget to think about styling the very basic bathroom essentials. This includes the bathtubs, sinks, toilets, showers, and mirrors. There are a wide variety of styles and designs to choose from and every one of them can add a different mood to your bathroom remodel. For example, a unique sink or mirror frame can be the focal point of the whole room. When picking pieces, you should be sure to keep all these essentials within one theme, to unify the overall design of the bathroom. Another important thing is to sit in your bathtub before buying it. You do not want to end up with a bathtub that is too small or just uncomfortable.
Countertop – When planning a bathroom remodel, consider replacing your old countertops with marble, granite, or slate to add luxury and beauty to your bathroom. If you are on a tighter budget, clean laminated counter in neutral colors can look great too. Regardless of what material you choose for your bathroom remodel, you will want to make sure the counter is easy to maintain and has a long life.
Walls and Floors – When choosing paint for the walls or tiling for the floor, remember to stay within your color scheme. Paint should ideally be a light or neutral shade to make the room seem bigger and brighter. If you want to try patterns on the walls, stripes add an interesting look to your bathroom remodel. Replacing your flooring also makes a big difference to your bathroom's appearance. Choose tiles for the floor carefully, they should be easy to care for and have a long life. Overall, altering floors and walls is a major part of any bathroom remodel.
Lighting – Bathrooms with large windows are more inviting. If you have windows in your bathroom, consider making them larger during the bathroom remodel to invite more natural light inside. In addition, when choosing lighting fixtures, you should try to avoid harsh fluorescent lights, as warmer lights are more appealing.
Hiring a Professional Contractor Can Help You with Your Bathroom Remodel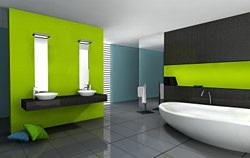 When you set out to remodel your bathroom, hiring a professional is the best way to get it done right. They can assist you with planning, getting the required permits and raw materials, and even helping you decide what options are best for your budget. Therefore, instead of trying to do it yourself, hire a trusted contractor and let them handle it for you. This will saves you the time and effort that goes into a major reconstruction and it also ensures a job well done.
Call Huxco Construction to Start Your Dream Bathroom Remodel
If you would like to discuss your ideas for a bathroom remodel or you would like to learn how we can help with your bathroom remodel project, contact the remodeling contractors at Huxco Construction today!
Free Estimate
Contact us online to submit details of your project and request a free estimate today!
Special Offer
Don't forget to mention your visit to our website!
Discount available*.
$350 OFF Roof Replacement Tear Off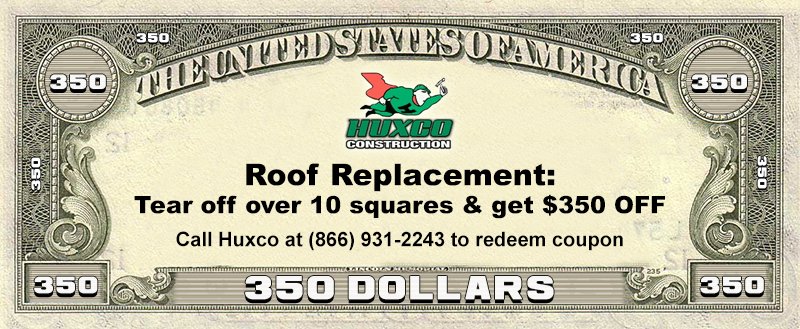 Limited to one discount per household. Cannot be combined with any other offer.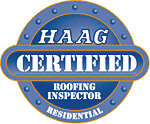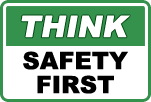 WE ACCEPT