Popular Deck Building Trends from a Professional Deck Builder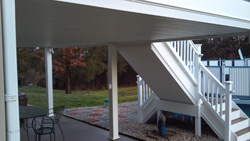 In the past, the concept of home meant something entirely different to what it means today. A home was simply a place to reside consisting of bedrooms, bathrooms, a living room, and a kitchen. A home was typically viewed as a place where you would take shelter from the world. Over time, this began to change and homeowners started integrating their homes with various other facilities allowing them to live in, entertain from, and thoroughly enjoy their homes. People began to incorporate workout rooms, game rooms, office spaces, movie theaters, etc. into the domestic realm. Recently, there has been a new trend gaining momentum – the trend of decks and outdoor living spaces.
As more and more people have now begun to shift from indoor living to outdoor living, everyone is on the lookout for a deck builder who can provide them with the deck of their dreams. If you are also one of these people, look no further. Huxco Construction is among the best deck contractors in the business.
Deck Construction Tips from A Deck Builder
Since every home is unique, it goes without saying that every deck also has to be. However, deck builders across the country have noticed several trends in deck construction that continue to gain popularity in the industry. Let us examine some of these trends and see if they satisfy your tastes.
As people begin to spend more time outside than inside their homes, deck builders have noticed that more and more people are building decks that are larger. Because people want to integrate as many accessories and features into their deck, they are willing to increase the size of their decks and sacrifice indoor or yard space. Moreover, deck builders have also noticed that, in attempts to multiply space, deck customers are turning to multi-level decks as well.
Nothing illustrates the trend towards outdoor living more than when people ask deck builders to install fireplaces, fire-pits, outdoor lighting, and other appliances in their decks. Low-voltage, soft lighting is a common request made by clients to deck builders.
Outdoor kitchens are fast becoming another popular deck feature amongst clients. Deck builders will tell you that some people are not just satisfied with stainless-steel grills anymore. They are demanding cupboards, countertops, mini-fridges, cooking surfaces, and even sinks. In addition, you cannot have a kitchen without a dining room. Clients also request deck builders to set up tables and appropriate seating configurations to compliment their outdoor kitchens.
Initially, decks were built using a single material. Clients are now asking for combinations of different materials to add a dynamic feel to their decks. You can now find decks that incorporate glass, aluminum, and wrought iron railings as well as new, durable wood composite materials for flooring. Stone is also being used as a unique, decorative feature.
Another positive trend that deck builders have noticed is a growing popularity of using eco-friendly materials. For example, wood may be sustainably harvested or other environmentally friendly wood alternatives may be used.
Other trending accessories that deck builders often find themselves installing are sound systems, pergolas, mosquito netting, movie projectors, and awnings. These features all add to the creation of an outdoor living space.
Find a Deck Builder Who Will Listen & Help You Create Your Dream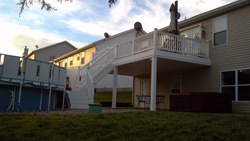 The trend towards custom and personalized decks is not one that we, at Huxco Construction, see diminishing any time soon. This kind of trend puts a lot of pressure on deck builders, firstly to professionally create a safe and spacious deck, and secondly to fully cater to the needs and desires of their customers. Therefore, we are always looking for the latest innovations and methods to integrate new features into decks so that customers will never have to compromise.
Contact Huxco to Work as Your Premier Deck Builder
If you are ready to begin your deck building project, give us a call at 636-931-2243 or 866-931-2243 to discuss your ideas and see how we can help you.
Free Estimate
Contact us online to submit details of your project and request a free estimate today!
Special Offer
Don't forget to mention your visit to our website!
Discount available*.
$350 OFF Roof Replacement Tear Off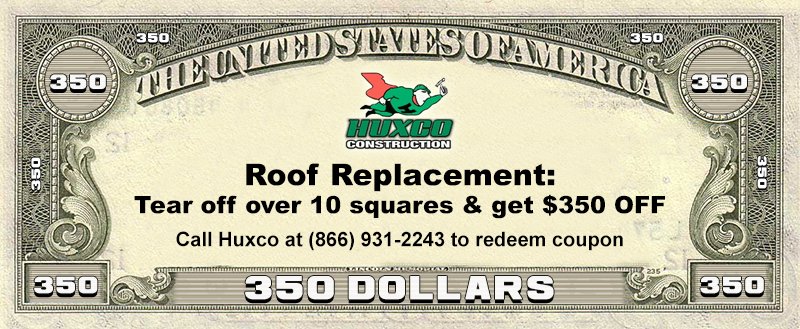 Limited to one discount per household. Cannot be combined with any other offer.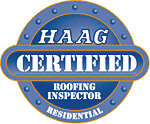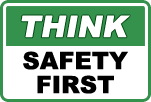 WE ACCEPT