Top-Quality Siding Repair Services in Missouri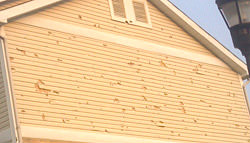 Is the siding on your property showing signs of damage? Are you looking for a reliable and experienced siding repair provider in Missouri? You do not need to look any further than Huxco Construction. We offer customized siding repair and installation services for commercial and residential properties throughout Missouri. Our company hires only experienced professionals who can repair any kind of siding within our projected time and budget.
The siding of your home or office is the first line of protection against the elements of nature. Damage to this siding can cause damage to the substrate of the walls and lead to interior damage that is very expensive to repair. Therefore, it is important to handle any siding repair projects as quickly as possible after damage occurs. If you are in need of siding repair services, call us at 636-931-2243 or 866-931-2243 or contact our remodeling contractors online to learn more about our siding repair services.
Excellent Siding Repair Services at Affordable Rates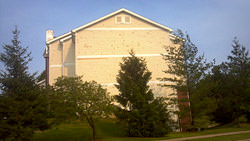 If you notice even the slightest damage to your siding, call our siding repair experts immediately. Trying to tackle siding repair yourself could be dangerous and difficult. Our siding repair team can repair siding made of any material and handle all of your siding repair needs with expertise and care.
We offer siding repair services for all types and styles of siding including some of the most difficult to repair styles. This includes:
Asbestos Siding: We are considered to be experts in asbestos siding, and we make sure to take maximum protection while handing this substance. Contact our siding repair professionals immediately when you see even the slightest damage to your asbestos siding, as prolonged exposure to damaged asbestos can be extremely harmful. For many customers, we recommend that you replace asbestos siding with more modern siding materials.
Shake and Slate Siding: A lot of skill is required for shake and slate siding repair. While these materials are is very aesthetically pleasing, they can prove very expensive to repair if not done immediately. As siding repair experts, we can handle any shake and slate siding repair projects.
Vinyl Siding: This is one of the most common types of siding but it is very thin and can damage easily especially during hailstorms. Our siding repair professionals repair your vinyl siding to keep it looking as good as new.
All Other Types of Sidings including Fiberglass, Aluminum, Cement Fiber, Hardwood Composite, and Wood Sidings: If you notice rust, water damage, mold, fungi, and other types of damage to any of these sidings, get in touch with us immediately to get them fixed before it is too late.
Why Choose Siding Repair Services from Huxco Construction?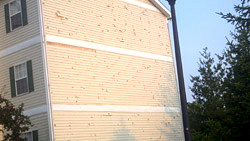 No matter how small or large the siding repair project is, you can rest assured that your project will be of the highest quality and be completed on time when you work with Huxco as your siding contractor. Repairs done by a sub-par siding contractor can not only look bad, but may also also force you to perform extensive repairs again within a short span of time. Therefore, you need a trustworthy, affordable, and experienced company like Huxco Construction for all your siding repair needs.
Here are some reasons why you should choose us:
We use quality raw materials and provide professional repair services
We are OSHA and HAAG certified
Our company is fully licensed and bonded in Missouri
We are certified in siding window installation
We provide affordable and flexible services
We are licensed insurance adjusters
Contact Our Siding Repair Professionals Today!
If you would like to learn more about working with us for your siding repair services, contact our remodeling contractors today at 636-931-2243 or 866-931-2243.
Free Estimate
Contact us online to submit details of your project and request a free estimate today!
Special Offer
Don't forget to mention your visit to our website!
Discount available*.
$350 OFF Roof Replacement Tear Off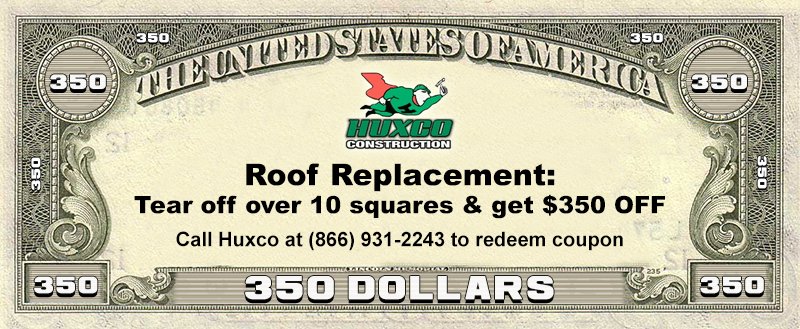 Limited to one discount per household. Cannot be combined with any other offer.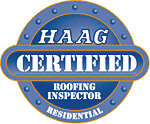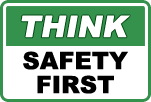 WE ACCEPT