How Much Does Metal Roofing Cost?
Metal roofs are commonly used on industrial and commercial buildings. They offer many advantages over traditional shingles. In addition to offering long life and durability, there are other areas also where a metal roof is superior to traditional shingle roofing. For example:
Metal roofing is energy efficient and it can actually help lower your energy bills. This is because the surface is highly reflective and does not allow heat to pass through. In summer, a metal roof can save up to 40% of your energy cost.
Metal roofs need less maintenance than traditional roofs. This is because moss and algae will not grow on metal roofs. As another bonus, metal roofs are also fire retardant.
Metal roofs can handle heavy rains, strong winds, and even hail storms with minimal damage unlike other shingle roofs.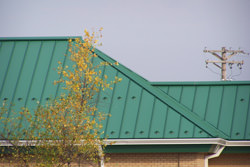 The metal roofing cost is certainly higher than the costs for most other types of shingle roofs. This is partially because a metal roof is made from a better quality material. Additionally, installing metal roofing also requires specialized equipment, skills, and expertise. However, when you consider that an asphalt roof may have to be replaced 2-4 times over the lifetime of a metal roof, you realize that the metal roofing cost is worth the added expense.
To learn more about what metal roofing costs and to request an estimate for your roofing installation project, contact the metal roofing experts at Huxco Construction at 636-931-2243 or 866-931-2243.
Primary Factors That Determine Metal Roofing Cost
Many different factors combine to determine metal roofing cost. Some of the main factors include:
Roof Size: The most important factor that determines metal roofing cost is the size of the roof. The size of the roof is calculated in square feet. Then the total metal roofing cost is determined by multiplying the cost per square foot by the total area of the roof.
Type of Material: Metal roofing panels can be made from several materials such as galvanized steel, stainless steel, copper, aluminum, stone coated metal, zinc/silicon/aluminum coated steel, or metal tiles. The metal roofing cost differs by the material used.
Paint: Metal roofs are available in several finishes, with several special coatings, and in a number of grades. Some of these finishes are premium while others are of a lower quality. Your metal roofing cost will increase depending on the finish and the paint you select.
More Factors Influencing Metal Roofing Cost
Apart from the primary factors, some additional factors may also influence the cost of metal roofing. These include:
The Number of Angles and the Pitch of the Roof: Some roofs are very easy to install such as a single gable roof. However, if there are multiple gables and chimneys, the complexity of installation increases, and therefore, the cost of metal roofing will increase.
The Preparatory Work Required: In most cases, you will have to prepare the roof for metal roof installation. This might include removing the old roof, repairing the roof deck, or completing other repairs. These factors all influence the final metal roofing cost.
For More Information on Metal Roofing Costs Call Huxco Construction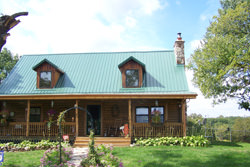 At Huxco Construction, our metal roofing and remodeling contractors are professionals with extensive experience working on and installing all types of roofs. We can handle any roofing project with expertise and ensure the best work. If you want to know more about metal roofing costs or you would like to request and estimate for your project, contact us at 636-931-2243 or 866-931-2243.
Free Estimate
Contact us online to submit details of your project and request a free estimate today!
Special Offer
Don't forget to mention your visit to our website!
Discount available*.
$350 OFF Roof Replacement Tear Off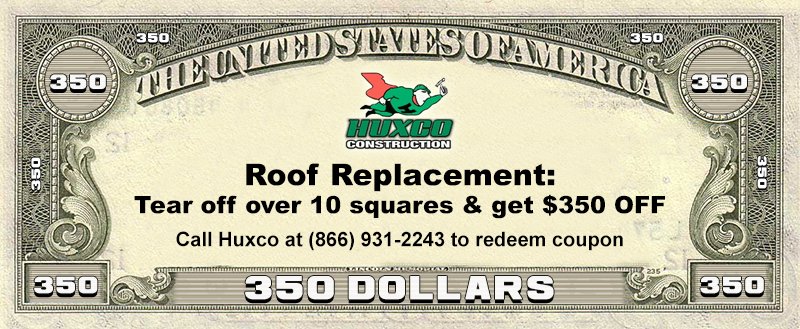 Limited to one discount per household. Cannot be combined with any other offer.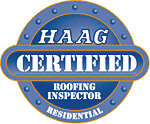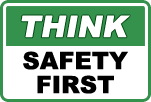 WE ACCEPT