Things to Consider Before Kitchen Remodels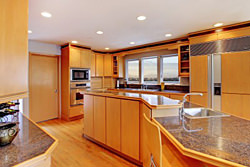 Kitchen remodels, like any renovation project, are an investment of time and money. When considering a kitchen remodeling project, you will have many important decisions to make. Some of these are actually made even before the physical remodeling begins. At Huxco Construction, we can guide you through kitchen remodels and even help you make some of the tough choices that may come up throughout the planning, design, and construction stages.
If you have questions about kitchen remodels, call us at 636-931-2243 or 866-931-2243 today, and we would be happy to answer any question you may have.
Kitchen Remodels – Important Factors to Consider During Planning
There are many factors and issues that you will want to consider before you even decide to go through with remodeling your kitchen. Some of these are:
Cost –How much should you invest in a project like this? Kitchen remodels can be quite expensive depending on the design features you want incorporated. You may want to ask a realtor if remodeling your kitchen would be worth the investment in the long run. You may want to consult a good contractor to get a rough estimation of what your project will cost you. Finally, ask around about financing options that can make your project more affordable. You can also think about where you can save money without compromising on safety, quality, or design.
Why Remodel? – Kitchen remodels are for the long-term, and you should think about why you are renovating in the first place. It may be for aesthetics or to improve function, but once you know why, you will have a better idea of what direction to take. If you are making changes for beauty, you may consider spending a little more to hire an architect to design the kitchen. However, if you're renovating to improve functionality, you will want to keep this as a top priority with every decision you make.
Layout – The layout of kitchen remodels is very important. It should be attractive yet functional, and it certainly should not hinder movement. The kitchen is the nerve-centre of a home so it should not be cluttered or cramped. There should be ample room to walk around and access appliances. Also, do not forget to plan for storage space like a pantry and shelves.
Major Appliances – Appliances are a big part of kitchen remodels. When planning, decide where you want your major appliances like your fridge, oven, and dishwasher to go. Depending on the kind of space you are working with, there are plenty of options on the market. You can visit a local appliance store to see which ones best suit the needs of your family, and whether they can be accommodated in your kitchen.
Future Buyers – You will want to think about the future when planning your remodeling project, and whether you plan to live in the same house for many more years. Kitchen remodels, if done well, can be the major selling point of your home. However, if you do not plan ahead, and the layout is poor, you may find it harder to sell. That is why it is best to consult a local realtor or experienced contractor before you start in order to see if your renovation plans are a good idea.
Final Preparations – The final steps before a kitchen remodel will be to take all of your dishes and appliances out of the kitchen at least 2-3 days before the renovation begins. Kitchen remodels can be noisy and stressful. You will have contractors walking in and out of the kitchen all the time and trying to get your kitchenware out after they arrive is a difficult task. Therefore, you should safely box up all your ceramic and glassware beforehand to save yourself the trouble.
Huxco Construction Helps with Kitchen Remodels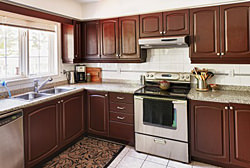 At Huxco Construction, your remodeling dream is our dream! We have undertaken numerous kitchen remodels and we are licensed and experienced to provide quality outcomes. We can help with planning, layout, design, and obtaining any necessary permits in order ensure that your project runs smoothly. We are one of the most trusted home renovation contractors in the business.
So call us today at 636-931-2243 or 866-931-2243 and let us help you design and build the kitchen of your dreams. You can also contact our remodeling contractors online with any questions or concerns you have about kitchen remodels.
Free Estimate
Contact us online to submit details of your project and request a free estimate today!
Special Offer
Don't forget to mention your visit to our website!
Discount available*.
$350 OFF Roof Replacement Tear Off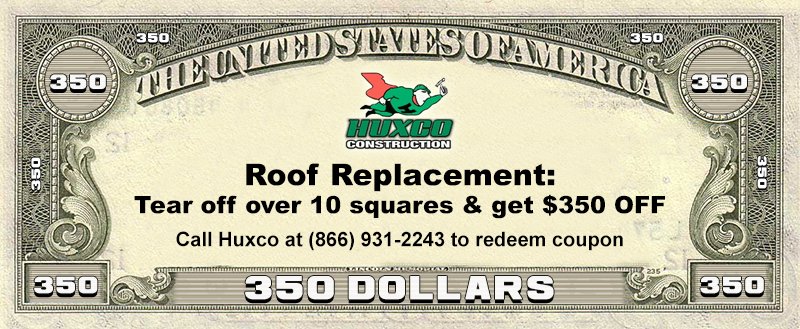 Limited to one discount per household. Cannot be combined with any other offer.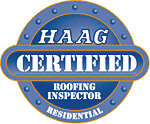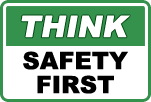 WE ACCEPT