Important Choices Involved in All Deck Construction Projects
Deck construction is not an easy job in any sense. Beyond the actual 'construction' part of it, imagining and planning what you would like your deck to look like can be difficult as there are many options and choices to consider.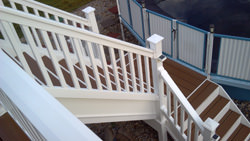 In the past, deck construction was much simpler due to the minimal choices available to the consumer. There has been much growth in the industry since then and deck contractors and designers are always on the lookout for new techniques, materials, innovations, etc. that can be integrated into their construction projects.
At Huxco Construction, we understand all of these options available. Therefore, we can walk you through the design and construction process to help you create the deck of your dreams.
Deck Construction: Considering Your Options
After you have decided that you would like to invest in your home by building a new deck, you will be faced with many options. It is important that you consider these options in the deck construction process carefully, so that your end result is a deck that is fully capable of meeting your needs.
Here are some of the style options available to you as you move forward with your deck construction project.
If you are a modern individual with a preference for the minimalistic, then you might want to consider contemporary deck construction. This kind of style is focused around the 'less is more' principle. This style uses familiar shapes and clean-cut lines to create a state of the art look with your deck. The materials used to create a modern deck are typically may include PVC, metal, or wood composite materials. Railings are typically made from steel or glass.
Another option when thinking about your deck construction project is a classic, colonial look and feel. This kind of architecture will involve the use of symmetry, several ornamental features, and other decorations. Railings should be prominent and they are typically white. Wood or wood composites are generally used in decks of this style.
Some people like to dwell in the charm of the past. Traditional deck styles are perfect for these kinds of deck customers. This style also focuses on ornaments and decorations but uses more complex shapes like hexagons and octagons. Traditional deck construction does not care much for symmetry in some sense, compromising look for feel. This style uses decorative post and rail caps. Cedar and Redwood is typically used in this kind of deck construction
If your home is elevated you may be interested in creating a mountain style deck. This kind of style uses long timber and log framing. These kinds of decks are imposing in stature and go well with a beautiful view.
Deck Construction: Other Features to Consider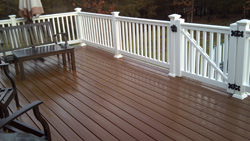 Beyond the theme of your deck, you may also want to include additional features that add a touch of individuality to the deck. These could include the use of planter boxes with fresh vegetables or flowers, benches, chairs, or other kinds of integrated seating, a barbeque pit, a mini outdoor kitchen and table, a softly lit bar, or a stainless steel grill. Additionally, hanging plants or vines around wooden archways create shade beautifully. All of these things can help customize your deck to your particular tastes.
Contact Us for Your Deck Construction Needs
At Huxco Construction, we can help you make all of the important decisions during your deck construction project. To talk with our expert home remodeling contractors about your project, call us today at 636-931-2243 or 866-931-2243!
Free Estimate
Contact us online to submit details of your project and request a free estimate today!
Special Offer
Don't forget to mention your visit to our website!
Discount available*.
$350 OFF Roof Replacement Tear Off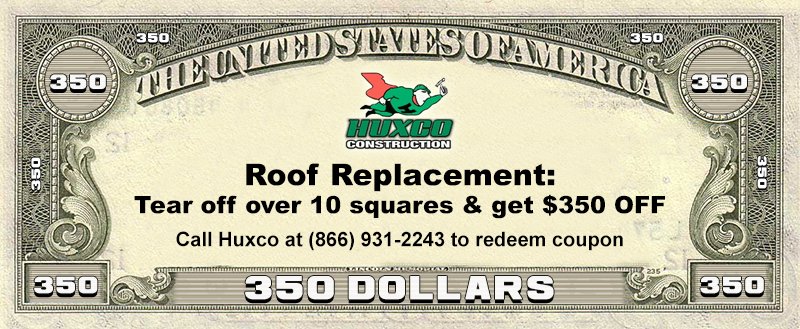 Limited to one discount per household. Cannot be combined with any other offer.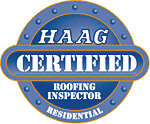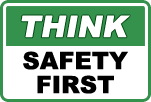 WE ACCEPT